New Version 3.0 for Macintosh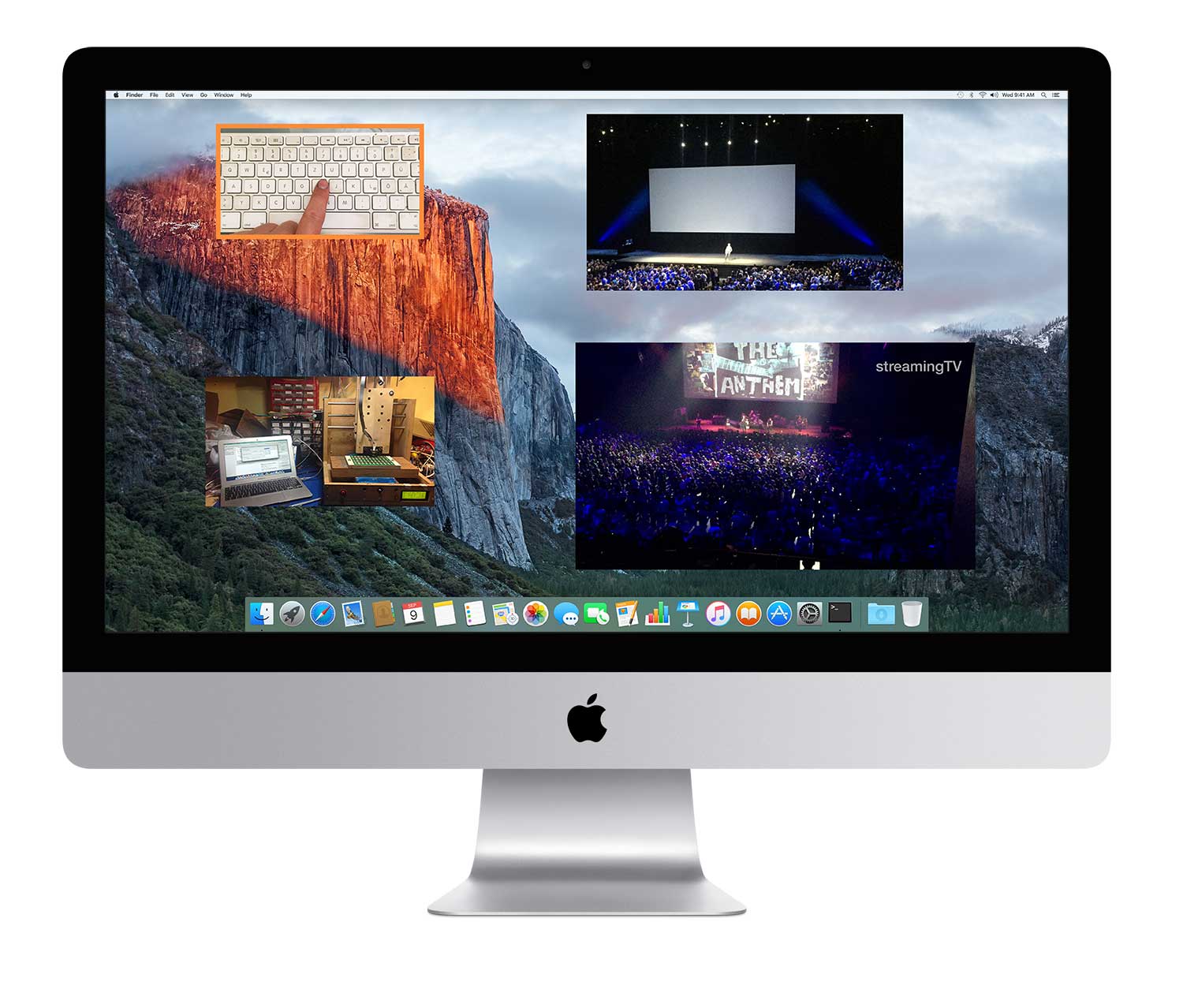 Proven Functionality
After more than 9 years experience with our application, we carried the proven functionality and workflow over to the new version of PiP.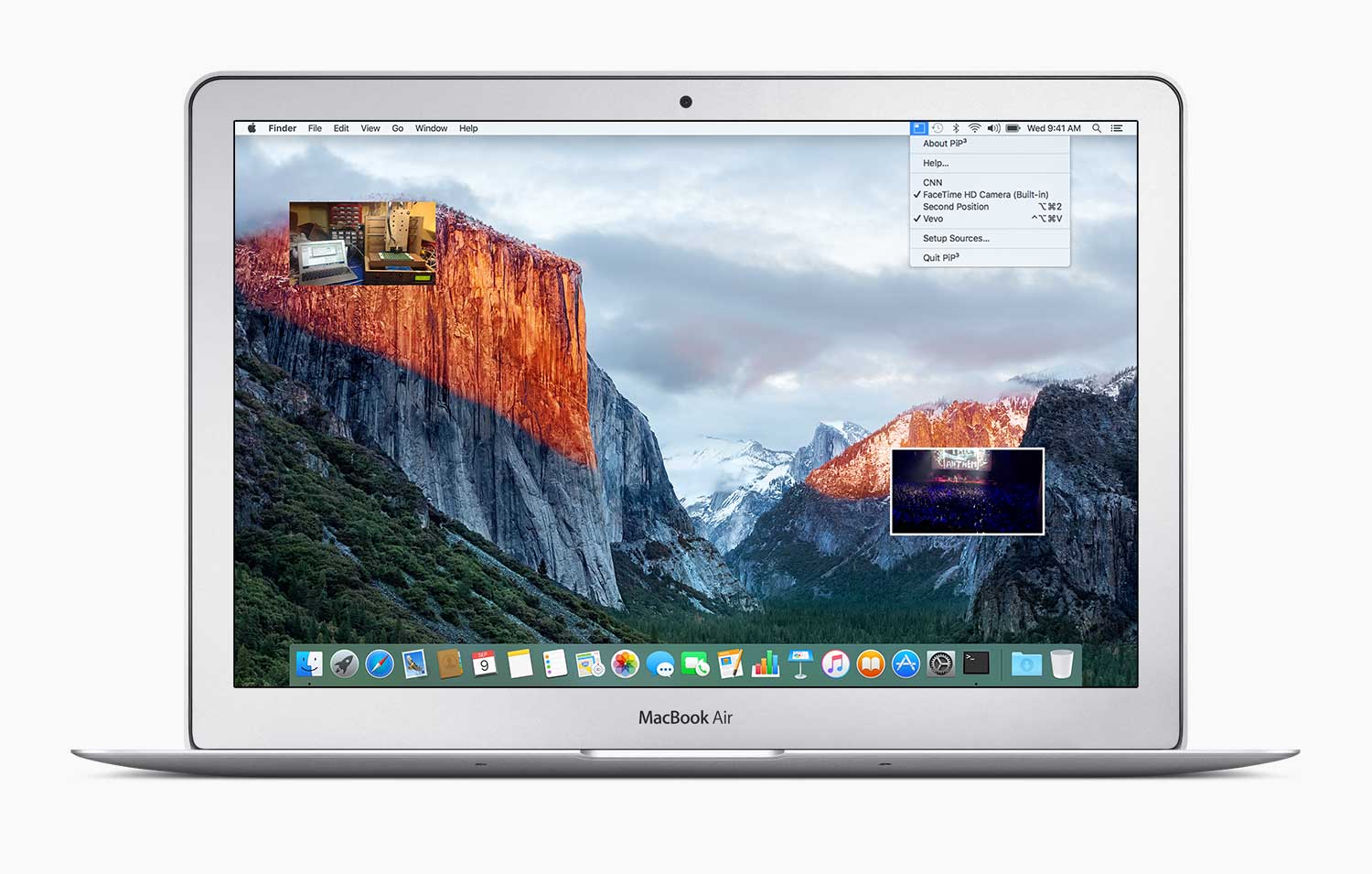 Picture in Picture
Use PiP³ to show video from any webcam on your screen, nicely integrated as "Picture in Picture"
which makes it ideal for live presentations, screencast recordings and in the educational sector.
PiP³ doesn't clutter the dock with an additional icon.
After launch it automatically installs itself in the menubar.
New Ideas
PiP³ contains lots of innovative and new functionality. This makes working with PiP³ even easier and more versatile.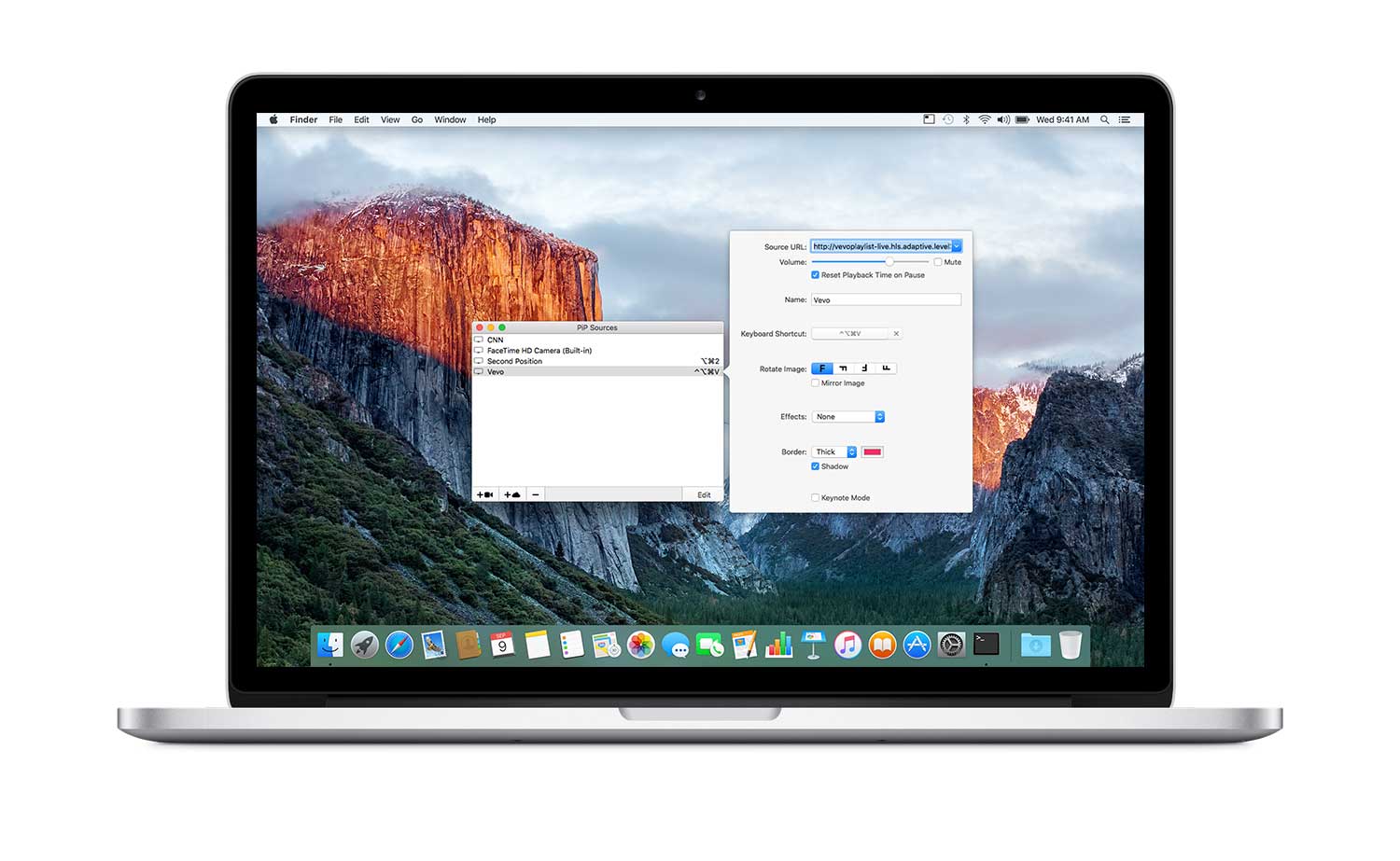 Multiple video windows.
It's now possible to configure as many video presets as you like.
You can stream mutliple video sources at once or simply show one video source at differnt sizes and positions with mutliple presets.
HTTP Live Streaming.
PiP³ enables you to stream HTTP live video sources (HLS) directly to your desktop.
Including sound.
System Requirements
Macintosh

Mac OS X 10.10 (Yosemite) or newer.

Built-in or USB connected webcam (for live video)
Access to HTTP Live Streaming [HLS / .m3u8] (for streaming video)
How to use it
Setup sources.
When PiP³ is launched for the first time, it will automatically add the built-in facetime camera as a PiP source. In order to add additional sources, open the PiP menu and choose "Setup Sources…".
This opens a dialog window where you can add live video and streaming (HLS) sources, as well as edit (or delete) existing sources.
To change a source, add a keyboard shortcut, edit it's name or presentation style, double-click it's name.
How can I change the size or position of a PiP window?
You can easily configure where a PiP³ window appears on your desktop: Just drag the window around while holding the mouse button down. Click & drag any corner to resize the PiP window. All changes are automatically saved.
Where can I find HTTP Live Streaming sources?
PiP³ provide some samples of HTTP Live Streaming addresses directly in the source edit dialog.
Unfortunately, most of the streaming video urls are not valid for a long time. We try to update the sample addresses from time to time.
You might want to search the internet for 'HLS m3u8 video URL' for additional sources.
Where can I get support?
Please contact our support here.
Try PiP³
Of course, you can try PiP³ on your computer before buying. The demo version runs as full featured app for 30 days.
Buy PiP³
Pleasant Software Online Store
You can upgrade to the full version right inside the trial app. Alternatively, you might want to buy a license here, in our Online Store:
BUY A LICENSE